I should say from the outset that I am not an employee of HF Holidays, just a regularly satisfied customer over many years. My wife and I have taken several HF holidays in the UK where they cater most excellently in their own hotel-like country houses for those who enjoy led walks. Abroad they use carefully selected hotels to effect the same outcome. This company can be relied upon to do what they say they will do, and to ensure their high standard, every customer is encouraged to provide feedback on how things were for him or her. So why did we choose Slovenia this year? The HF brochure described picturesque walking country of a suitable standard of easiness for our current capabilities i.e about eight miles a day with no more than 1200 feet to be climbed, together with accommodation in a high class hotel set alongside the mountains, and all in a country entirely unknown to us. I wonder if you know where Slovenia is exactly?

Members of the party flew as individuals from the UK although all were booked by HF on the same flight from Gatwick unless any were entirely independent travellers. Our flight was with the Slovenian company Adria Airways and apart from a short delay it was entirely comfortable and uneventful. A tasty salad served by most courteous staff made the experience all the more enjoyable. The Brnik terminal near Ljubljana is similar in size to our provincial airports and thus the arrivals process turned out to be remarkably speedy. As advised, the HF leader duly awaited us in the small arrivals area and we soon found ourselves sitting in a smart transfer coach. Slovenia has a good two-lane motorway system and this took us half way to Kranska Gora which is situated in an area known as the Julian Alps, right in the north west corner of the country. A good 'A' road completed the journey during which we were briefed by our Leader whilst admiring the passing dramatic mountain scenery.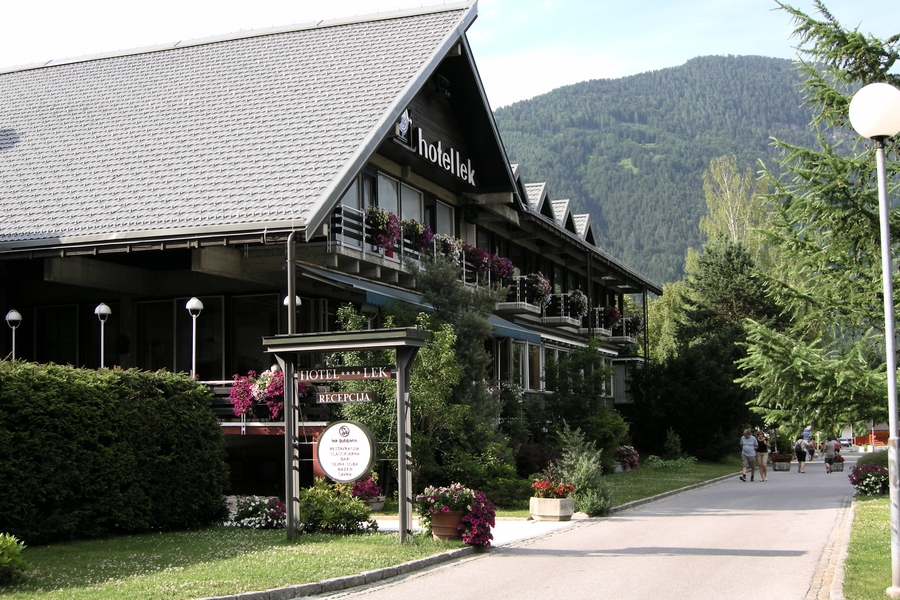 The view from the hotel terrace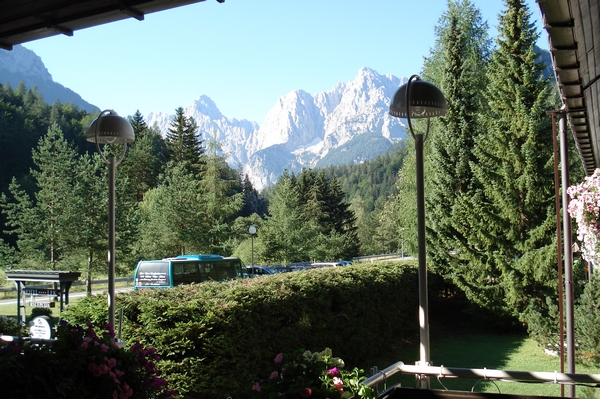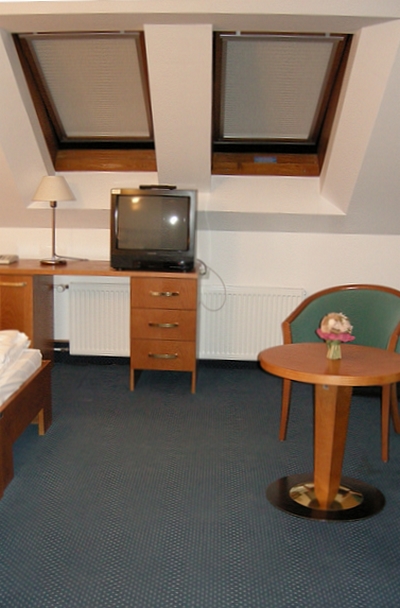 We were impressed from the outset by the Lek Hotel and by the courtesy of its staff, the more prominent of whom spoke fluent English with the remainder certainly seeming to understand it, probably as English is a compulsory subject in their schools.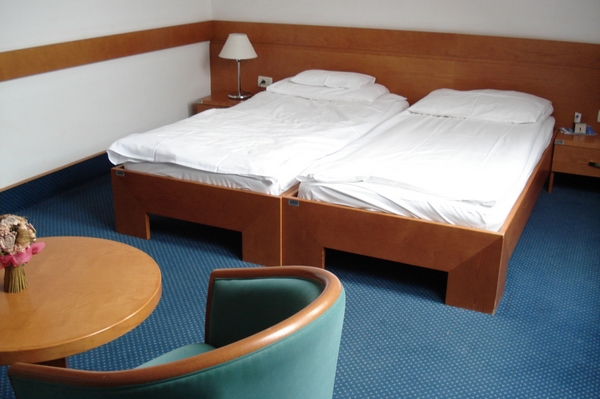 We had requested a quiet double room and the one allocated turned out to be on the second floor. This caused it to be equipped with a rather disappointing window arrangement, having two small but openable Velux type roof lights. The beds proved to be supremely comfortable despite being not a double but two closely coupled single bed frames. Our room had a small table and settee and there was ample drawer and wardrobe space. We found that many of the rooms on our corridor were not occupied and this was a blessing as we did not suffer from the usual hotel annoyance of late night uncaring door bangers. Tea making facilities were not provided but our trusty travel kettle served well (Slovenian voltage is 220). There was a minibar, telephone and TV. The latter received about 40 channels, with a few in English and the Midsomer Murders I glimpsed had Slovenian subtitles. Robes were provided to allow one to change in one's room before descending to the most excellent pool & jacuzzi installation in the basement. ( see the Lek website )

This next picture shows the rewarding view which was available if one inserted one's head through the opened roof window. It would be hard to beat that!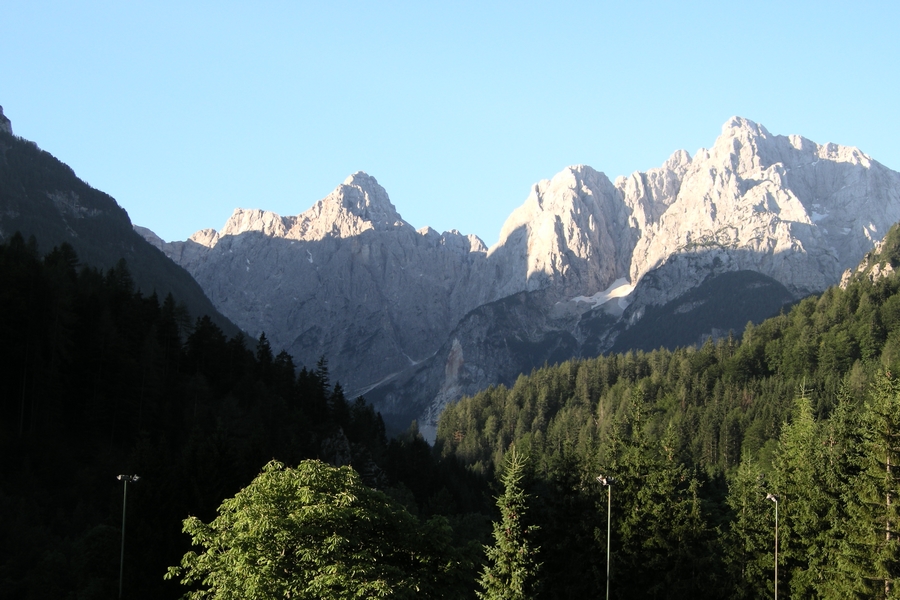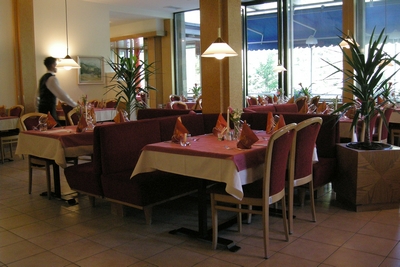 The large dining room operated throughout on the buffet style with food obtained from a servery. Those operating it had enough English to explain the identity of the meats on offer, which they then served with familiar vegetables. In case of any misunderstandings a head waiter with excellent English hovered nearby to adjudicate. It should be noted that one is not expected to accompany one's meal with Slovenia's perfectly safe tap water. The bottled variety was available at a price together with a choice of beers or wines. Coffee or tea was available from a self service machine, but as this did not elevate the water to boiling point, tea was an unwise choice. It was quite in order to choose a meat and then if the vegetables on offer did not appeal, to move across to this excellent self service salad bar.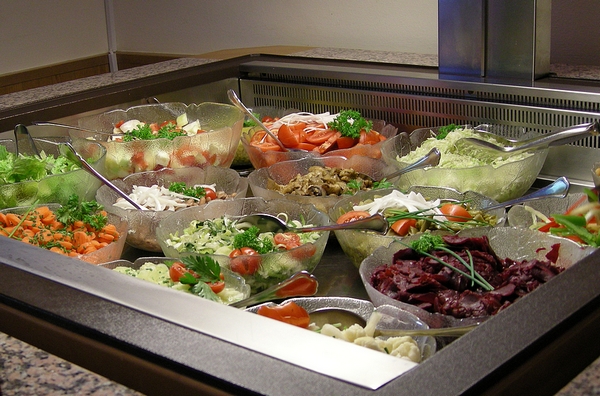 In general it was found that the meats were not as tasty as they might have been and the vegetables slightly overcooked.
Nor were the breakfasts up to HF's own home high standards, but as we did not require cooked ones, this did not matter. However the self service toaster proved slow, with one half totally defective, but once it had been coaxed into production, there was no marmalade available with which to annoint the toast, merely red jam or honey in small packets. It is obvious that the Slovenians are not appreciative of this English breakfast time delicacy. However, despite these very minor criticisms, overall we considered ourselves to be very well catered for.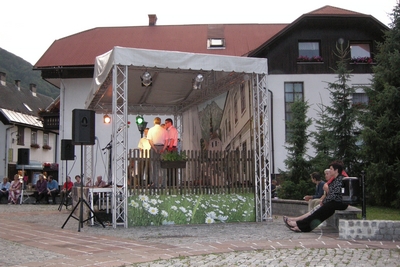 On that Saturday evening, after our evening meal we ambled down the few hundred yards to the central square of Kranjska Gora where a village entertainment in the form of Slovenian folk songs was in progress. Each evening of the week a free musical event took place here, ranging from folk songs via a zither fest to a night of jazz. Kranjska Gora is either a large village or a very small town. Half of its buildings are hotels or have some connection with the tourist industry, it being Slovenia's main ski centre. Slovenia is well into that sport having the world's highest ski jump and is a manufacturer and exporter of quality skis. In the village we found a good sized supermarket, a church, a school, a selection of small shops including a fruit shop, an ice cream parlour, a casino and a petrol station. The following morning we also found that the church serves its purpose in preventing the sin of sloth by an extended pealing of its bell which causes the whole village to awake at seven o'clock.
---
If the above information has been of interest, you may wish to read about the walks that were undertaken during the week.
---
We had to get out of bed at 03.00 on the following Saturday morning, an hour earlier than the usual time for those returning home. This was because it was the first day of a Slovenian national holiday period and heavy motorway traffic was anticipated. Mary, our leader turned out to ensure that all those who were going actually climbed into the coach. In the event there was no hold up so we arrived at the unbusy airport excessively early. Brnik had only ten departures scheduled between 06.30 and 07.50 There was little to occupy us during the wait except to munch manfully our hotel provided doorstep sandwiches in the deserted upper departure lounge, ...........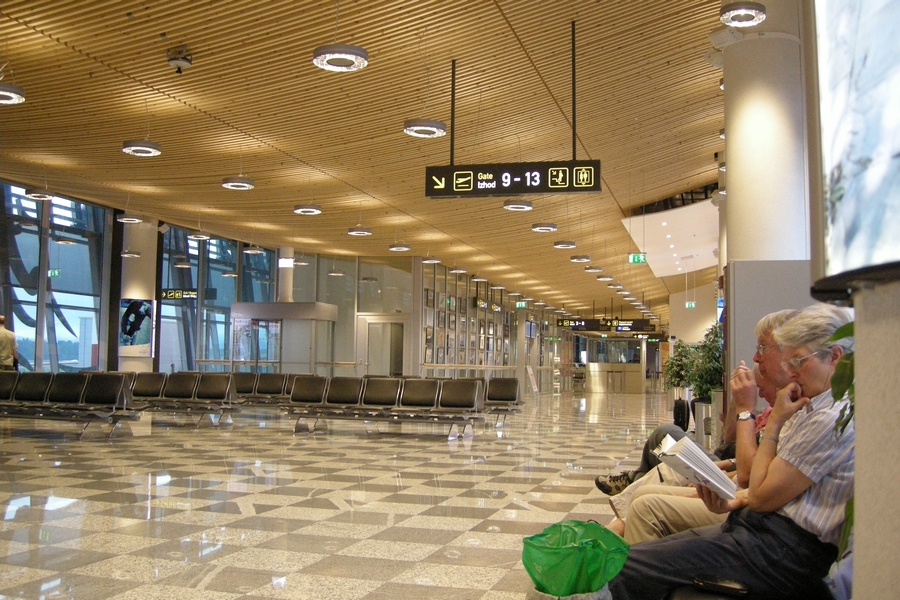 .........possibly with typical Slovenian images circulating through our minds whilst reflecting on the all too brief but most pleasant week we had experienced in this happy little country.
FAQ : what happened during The Ten Days War of Independence
A somewhat gaudy You Tube film about Slovenia although the content is first rate.