This year (2011) we chose Weidach from the HF brochure as the walks seemed to be of the right length for us and not excessively strenuous. Weidach is a small Tirol village near Seefeld which is a small town about twelve miles up the Inn valley from Innsbruck. Always surrounded by a backdrop of mountains, our walks which were usually across meadows and along river valleys, thus proved to be generally of a gentle nature. Not once did we find ourselves on rocky mountain tracks, more rather on gravelled paths. We encountered many pretty hamlets, each having a tiny church and in most cases an alm (cafe) which well served the needs of those members of the party for whom eating appeared to be every bit as important as the walking.
---
After a comfortable flight with Lufthansa the individuals in the party met Ken our leader in Arrivals who conducted us Pied Piper- like to our awaiting coach. The transfer of two and a half hours proved less pleasant than the flight as the coach air conditioning had broken and it was a hot day. At the hotel we were greeted by Daniel the enthusiastic young proprieter and his staff who immediately served us with cakes, this being the hotel's usual afternoon custom. We were very pleased with our well equipped room which had a balcony and a good view. After a five course dinner the party assembled in the lounge to be introduced to our young second leader Janie and to hear of the walks planned for Sunday.
I do not propose to detail the walks as they mostly followed a pattern of proceding from one alm to another with easy walking between, always with the wonderful mountain backdrop. Two were of note however. We walked to a very pleasant lake which was being made the most of by the local populace and their children. We then went on to see the The Great Peace Bell. On the Friday we went to the Spirit Gorge - the picture below gives an idea. On the Wednesday we went by train to Innsbruck where we visited the very elaborate tomb of Maximillian I who was Emperor and Pope for forty years, and then the Cathedral.
Evening activities included bowling in the basement of another hotel and listening to the village band.
In the basement the Hotel Kristal has an excellent pool and jacussi. The entirely separate saunas are for those over 16 years of age and of course follow Austrian rules. For those who don't already know, this means that they are mixed and one is required to be naked. Also you should be aware that in the interests of hygiene, your towel is for sitting on and not for draping around oneself.
The most excellent Hotel Kristall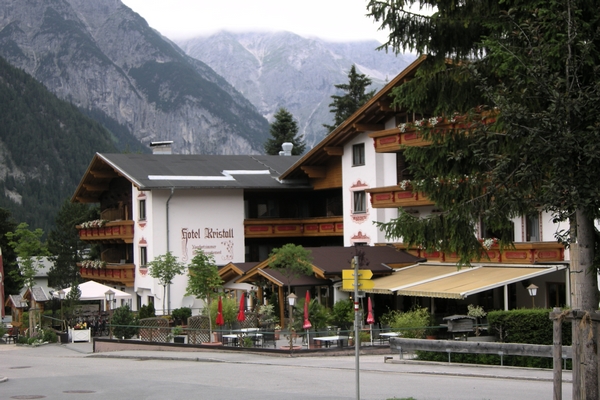 Our excellent room.......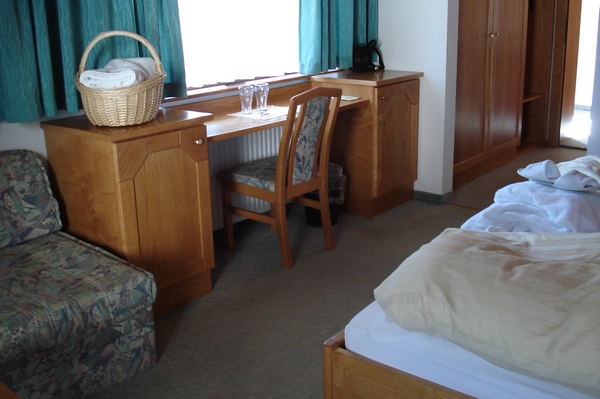 .......with an excellent view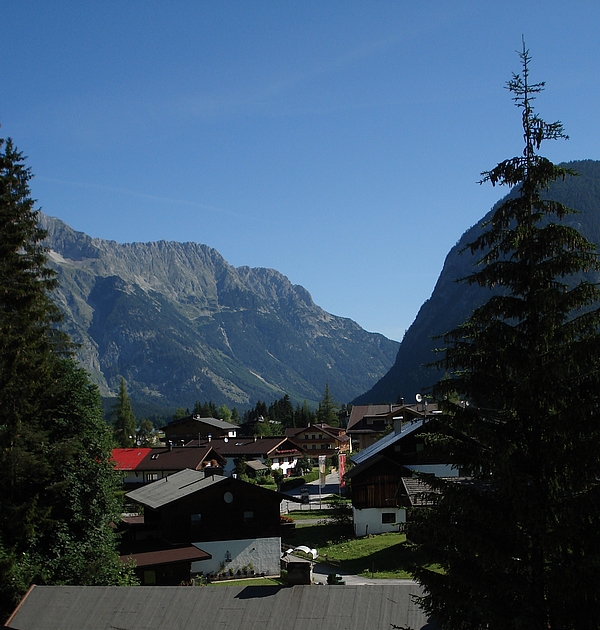 Typical scene during our first walk.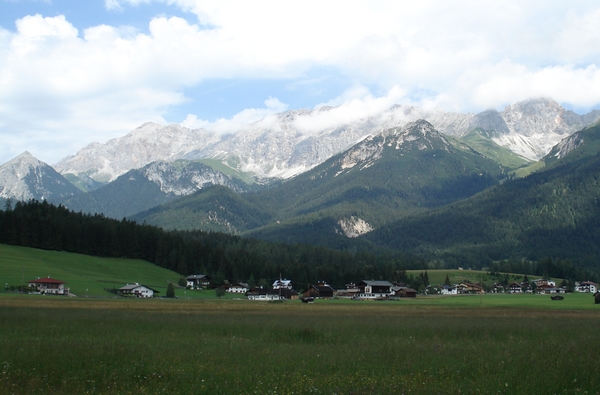 Each hamlet had its own little church.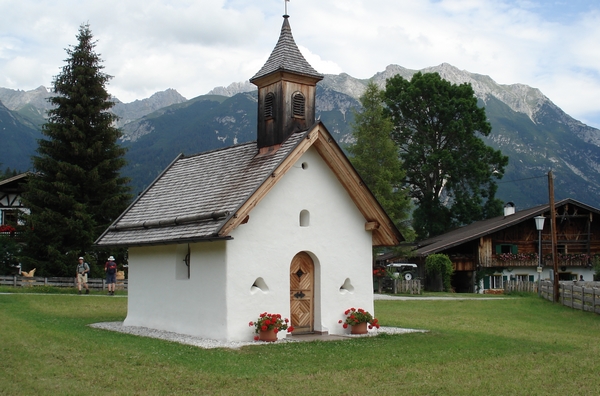 We could book an early morning call.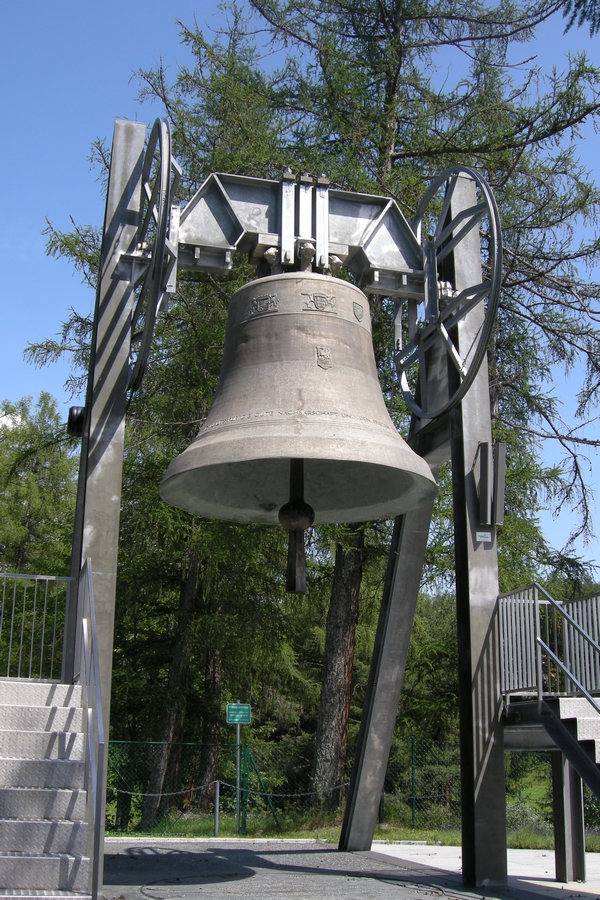 Some houses even had an unusual message of welcome!
Along the Spirit Gorge
Zany cafe proprietor hawking apfelstrudel when not offering free samples from his schnapps fountain.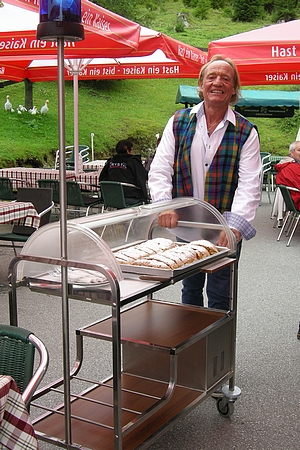 The almost mythical black squirrel.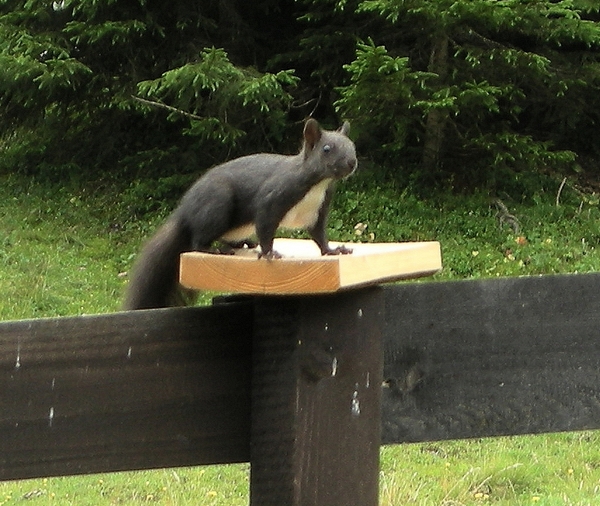 The right trousers.
Not your usual sort of HF Leader.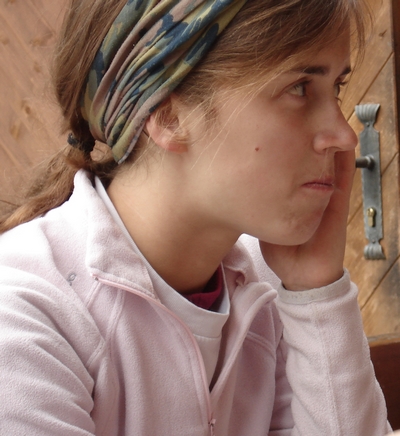 ---
I originally wrote this page in 2011. Recently (2016) on searching for a "Jane" in Facebook, quite by chance I found the Janie Oates page. That led to her website.This remarkable adventurous young woman has spent her years since Weidach travelling in many parts of the world on a bicycle! One page is devoted to her time at Weidach and in it she readily confesses to the huge appetite we (and my digital movie camera) observed her to have then. Not that the food had any seeming effect at all on her athletic figure I hasten to add. I'm sure that Janie will make her name as a travel writer - perhaps she already has.