After a very successful week walking in the hills and valleys of Slovenia last year, we thought we would try Norway this time as the ease of walking pointer in the HF brochure equally matched our capabilities. Unknown to us, all the members of the party were on the evening flight to Bergen from Gatwick although we had only managed to identify three of the twenty or so in the check-in queue. Diana, one of our two leaders, awaited us in the arrivals hall and she soon had the party ensconced in one or other of the two minibuses for the transfer to Stalheim, our luggage being stowed in a trailer van. The lateness of arrival caused the ensuing journey of two hours and eighty miles, including no less than 35 tunnels, to be a somewhat less than pleasant experience but at last we duly arrived at the hotel. Tea and biscuits were awaiting us and these were very welcome as no complimentary meal had been forthcoming during the flight. We finally turned in at about 0230.

The Stalheim hotel is situated above a bend in a deep valley and is aligned so that many of its 142 bedrooms have the best view. From a distance its factory-like appearance is somewhat reminiscent of a Yorkshire cotton mill that has been painted with red ochre, this being one of the traditional Norwegian colours for wooden houses. In the case of this concrete hotel the colour perhaps seems a little too vivid?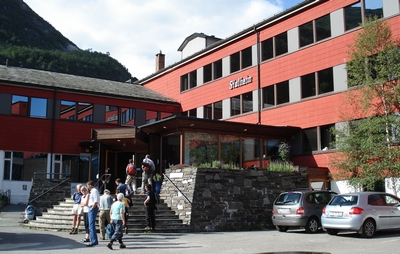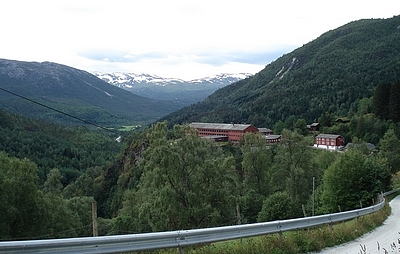 Behind the hotel there is a dramatic backdrop provided by the local mountains but the deep valley below is only able to be seen fully by peering over the terrace wall.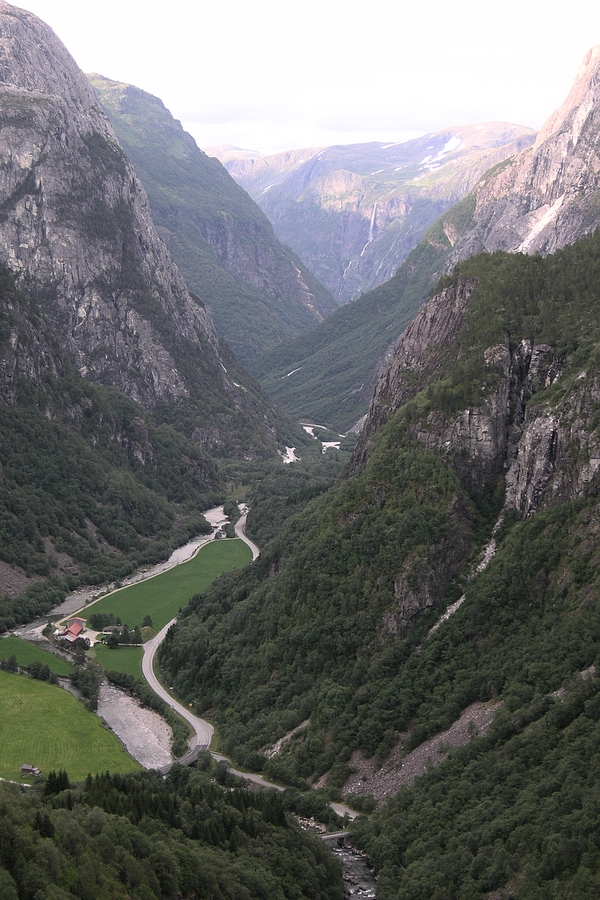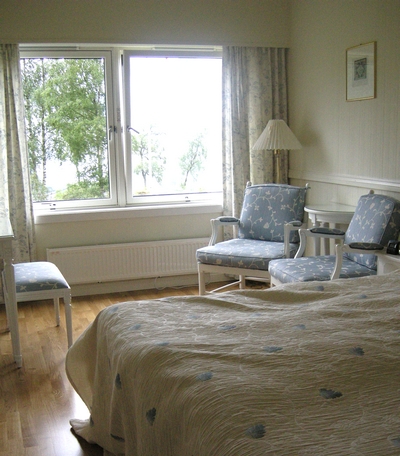 Our room on the second floor was tastefully co-ordinated and the bed proved to be extremely comfortable. Hanging space was limited and there was a lack of other storage space, so to some extent we had to "live" out of our suitcases. The curtains could have done with blackout lining as it did not get dark until about 23.00 and dawn was around 03.00. Apart from the fact that there was no shaver point, the small bathroom was entirely adequate and the shower over the bath worked very well. We encountered little noise from neighbours but there was quite a lot of pipe noise when any tap in the area was turned on. We considered ourselves lucky that we had the view over the rear terrace, although this proved a partial disadvantage when some of the whistlestop tourists congregated there to take last photographs and to shout excitedly into their mobile phones as early as 05.00.

At breakfast in the large dining room we found that many of the other guests were of Oriental appearance. We heard that the "Norway in a Nutshell" tour of Norway attracted many from that part of the world and this sometimes resulted in as many as six tourist coaches being parked for the night on the forecourt. On those occasions despite our reserved tables the buffet style breakfast could be an over intimate affair when selecting one's food. Museli and cornflakes were available and I believe a rather thick porridge. There were prunes (unboiled), apricots and an extensive array of salady and fruit items on offer. Cooked food consisted of a rather dense scrambled egg, baked beans and bacon. Several types of tasty bread were available and there was a self service toaster with jams and marmalade for those who used it. It would have been difficult for any stomach not to have been fully satisfied from this selection. Then for 60kr a lunch box or bag could be purchased and it was allowable to fill this with as many items from the above array that it could reasonably contain.

The evening dinner was based around a huge array of salad items and there was always an excellent soup to start with. Fresh salmon was always popular and there was a choice of cooked meats with usual vegetables. However the plates for these were never pre-warmed. Gateaux type pudding was provided or for those requiring even more vitamin C, fresh fruit.

We usually took our coffees through to the huge rear lounge which which was equipped with two walls of glass overlooking the terrace. There we should have received our briefing for the next day's walk, but usually had to retire to a quieter area for that. This in the most part being due to the over strenuous efforts of a pianist at the grand piano, whom the hotel employed to play throughout the entirity of every evening. This gentleman had impressive stamina and a very wide repertoire but he lacked finesse, and I am told accuracy. The poor man never received any applause perhaps because very few chose to sit there for long. For myself I believe "improvisation" would be a kinder description of his performance and I expect he felt he had to provide what he thought as full value to fulfil his contract.

The foyer area included a shop selling postcards, maps, guides, items of clothing and souvenirs. In addition to the lounge there were other public rooms in which antique items and pictures were displayed. One of these contained a large television set, the only one available to guests but thankfully it was rarely on, and another had a fireplace which sometimes housed a couple of blazing billets.

We returned early enough from our walk on Friday to allow time for a visit to the Stalheim folk museum. This consisted of several buildings set on an adjacent hillside and we were conducted there by the hotel manager. He spoke to us over the course of two hours about both local and national history. We viewed the interiors of three of the buildings, the first of which was a typical peasant's house about 300 hundred years old. This was followed by a talk sitting at the desks of the actual Stalheim school which had been in use until the fifties decade. The teacher had lived in a single room which adjoined the classroom. Following this we were taken into the main museum room where there were many artifacts and examples of national dress throughout the years. We all found the talk amusing and interesting. And the cost of this? 60kr. to be handed over at the time of settling our bills.

Our return flight was an early evening one and this allowed a long afternoon in which to explore some of Bergen, our baggage in the meantime remaining in the trailer. The tourist area is centred around the harbour and is most fascinating. We chose to first take the funicular railway to the viewpoint & cafe high above the town to take in these memorable views.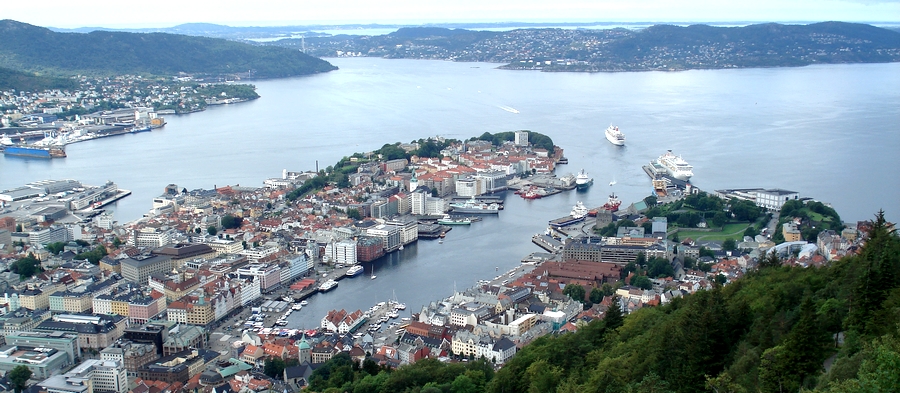 Then later we wandered around the harbour and in particular the world famous and unique Hanseatic buildings. These create a maze of interesting alleyways housing many small touristy shops, boutiques and cafes.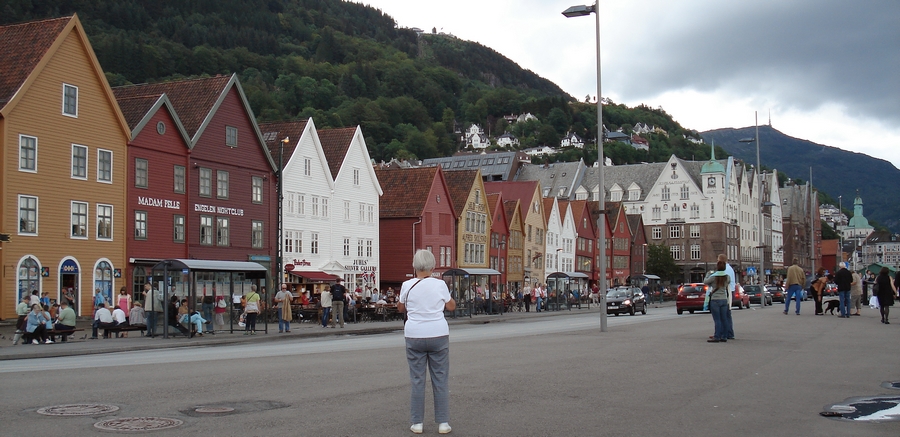 The Walks